Tourist information
Climbing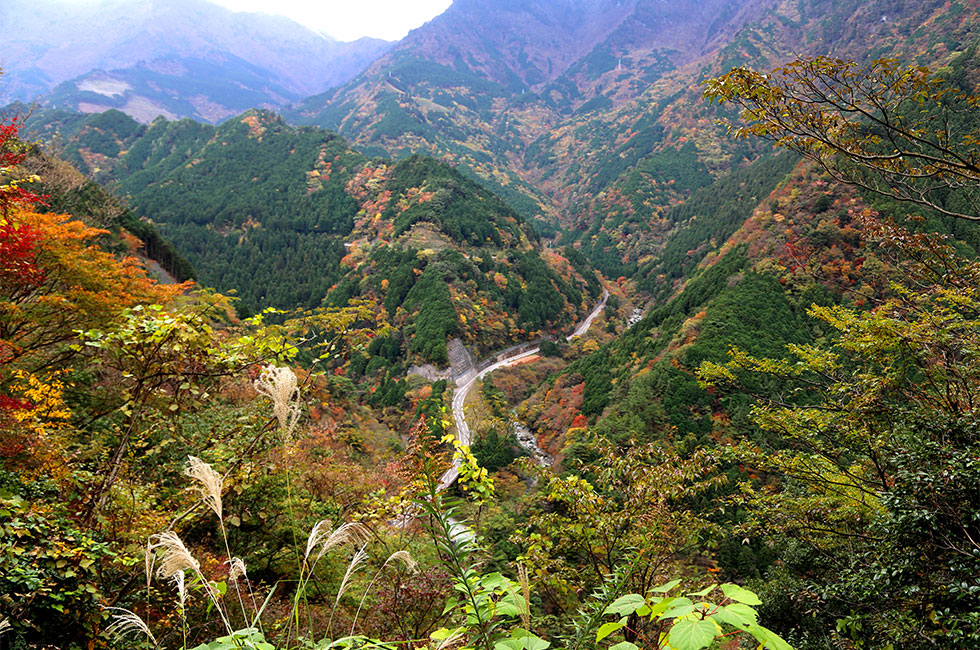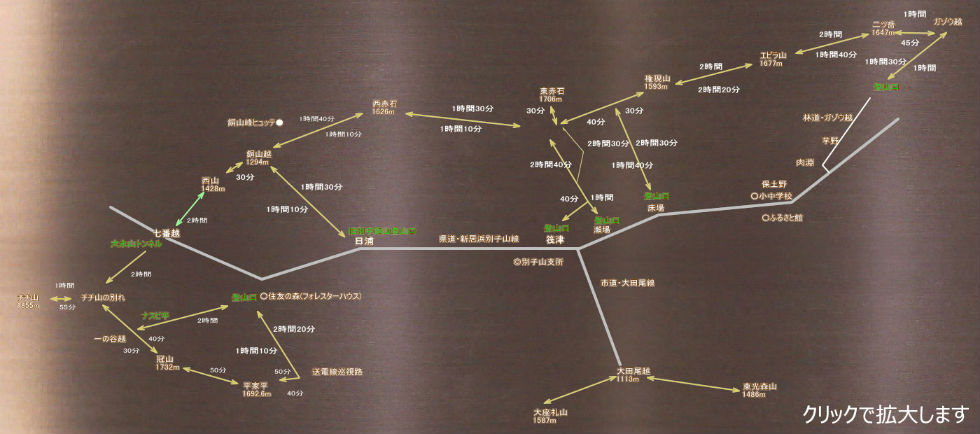 Climbing information around Besshiyama
The mountains of Besshi project from 1300m to 1700m above sea level, and each has its own unique mountain range and vegetation.
In winter, temperatures drop from -10 degrees Celsius to -15 degrees Celsius, with heavy snowfall reaching 50 cm to 100 cm.
Because there are many steep mountains, it is suitable for healthy legs.
* When climbing a mountain, be careful about changes in the weather, rain, fog, etc.
Copper Mountain Peak-Nishiakaishiyama
The rise and fall of the Besshi Copper Mine can be seen from the former Besshi Mountain Trail (Hiura) to the Copper Mine Peak. To Nishi-Akaishiyama, go east along the ridgeline via the copper mine peak.
There are clusters of azaleas, azaleas, red azaleas, etc., and it is a relatively easy hiking course in the Akaishi Mountains.
Higashi Akaishiyama
Climb along Seba Valley from Seba or Seba at the start of the mountain climb. On the way, cross the Tanibashi and you will see a fork. The right is straight up to Mt.
Alpine plants grow in clusters on the peridotite near the ridgeline, creating a unique mountain landscape.
Be careful as there are many pit vipers from early summer to autumn.
Nidake
It is a general mountain road from the trailhead at the end of the forest road / Gazo line to the crossing of Gazo, but the climb from the pass to Nidake is a tough course to climb the Kakusen rock peak.
On the way, you will pass the south side of Iwamine, the head of the sea bream. On the Sekokunai (Shikokuchuo City) side, there are two peaks, one with a name and one with a steep peak. Many people get lost because of fog, especially pay attention to the descent.
Kanmuri / Heikedaira
The mountain trail from Nakanichiban (Sumitomo Forester House) to Mt. Kanmuri and Heikedaira via "Nasubidaira" is prohibited. The fence of Sumitomo Forester House is locked so that you cannot enter or leave. Most of the bridges on the mountain trail have decayed and fallen, and the road has collapsed, making it a very dangerous situation. It is desirable to take a course along the electric power line tower for both round trips.
"Nasubidaira" was famous for its erythronium, but it could hardly be seen due to deer feeding damage, and it remains only in the iron fence installed to protect the plants.
"Nasubidaira" is owned by Sumitomo Forestry and is managed by Sumitomo Forestry (Forester House), so please obtain permission to enter the mountain. (Climbers cannot use the parking lot)
Higashimitsumoriyama and Ozareyama
From the city road, Otao Line, which is connected to Okawa Village in Kochi Prefecture, pass Otao Crossing and enter the forest road on the west side. After a while, you will find the Ozareyama trailhead across the valley.
There are 10 large beech trees on the gentle ridge in front of the mountaintop.
To reach Higashimitsumoriyama, just head east on the ridgeline from over Daejeon.
| | |
| --- | --- |
| Name | Climbing |
| Address | Besshiyama, Niihama City, Ehime Prefecture |