"Furusato Niihama Flight" Student Support Project Notice
"Furusato Niihama Express" will deliver the city's specialties!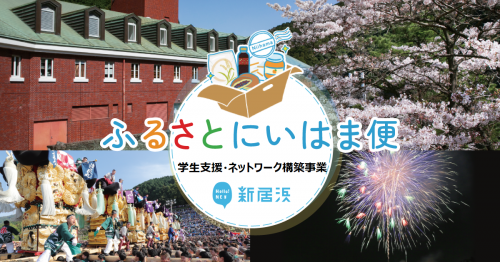 Students (1st year students) who are going on to universities outside the city for the purpose of building a network such as supporting university students (1st year students) from the city who are affected by soaring prices and disseminating job information. We will deliver an assortment of city specialty products (equivalent to 3,000 yen). If you have a family member or acquaintance who is a university student (first year student), please let us know.

■ Eligible people
First-come-first-served 300 First-year students under the age of 30 (those who entered in 2023) who are enrolled in a university, etc. outside the city (university, junior college, vocational school, etc.)
*You must present your student ID card and register for the student version of the nationwide "Niihama Club" (free of charge).
What is the student version of the nationwide "Niihama Club"? [Other files/243KB]
*You can register for the above clubs by agreeing to register on the "Furusato Niihama Service" application form.

■ Application period
May 29, 2020 (Monday) 10:00 to June 23, 2020 (Friday)
* If the number of participants does not reach the capacity, it will be held until March.

■ Shipping
It is scheduled to be shipped between the end of June and November 2023.
---
■ How to apply
Please apply as soon as possible from the dedicated website below.
Please wait for a while until the application starts.
Dedicated WEB site → https://furusato.city.niihama.ehime.jp/
---
■ Inquiries
Niihama City Planning Department City Promotion Promotion Section
1-5-1 Ichinomiyacho, Niihama City
Phone: 0897-65-1251 (direct)
E-mail: promo@city.niihama.lg.jp